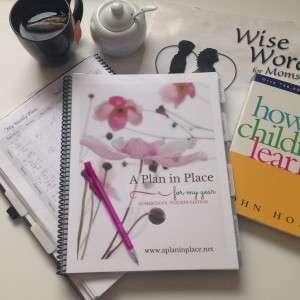 Put your pieces together to create your ideal homeschool planner!
Our Teacher Edition is the perfect Homeschool Mom planner! It will help keep you organized and on track for your entire school year.  With our custom choices, you'll have the perfect planner, made just for you.  And you'll find that your school year runs so much more efficiently than ever before.
Your Homeschool Teacher Edition planner includes three or four sections, tabbed for easy reference:  Goals & Planning, Calendars (optional), Weekly Schedule, and Record Keeping.
Like what you see?  Order Now!
NEW!  We now offer beautiful CUSTOMIZED COVERS!  Just upload a favorite photo of your family, your pet, or anything else, and we'll add it and your name to create a perfectly personalized cover just for you.
 GOALS & PLANNING
Plan your year ahead using Goals & Planning Forms designed to walk you through curriculum choices, daily schedules, and yearly activities.  Find more information about specific forms on our Form Examples page.  The worksheets in this section include:
My Mission Statement
Mission Planner Board
Brainstorm Boards
My Goals for the Year
My Responsibilities
Time Schedule
Curriculum Resources

Family Plan
Homeschool Budget
Field Trip Planning
Long Range Planning Form
Meal Planner
Good Books to Read
Examples from the Goals & Planning Section
CALENDARS
You can also plan out your year using our optional calendar section.  If you choose to include it, you'll receive two year-at-a-glance calendars, plus 14 monthly calendar pages, giving you some overlap to plan upcoming months at the end of your year.  We now offer both one-page-per-month calendars, and two-page, for those that need extra room to plan.  Plus, we allow you to choose the month that your calendars start!  Begin your year (or start your year over) whenever it works for your family.
WEEKLY SCHEDULE
Your Weekly Schedule Sheets are the heart of the planner, and will keep you on track all year.  You have two options – Stock sheets or Customized.  Both come in either one-page-per-week or two-pages-per-week. Stock sheets come pre-formatted with blank headings that you fill in each week.   For more control over what your Weekly Schedule Sheets look like, choose the Customized option.  While our Student Editions include 40 weeks of schedule pages to cover the school year, we know that moms don't take the summers off!  So (no matter which option you choose) we include 52 weeks in our Teacher Editions.
STOCK Weekly Schedule Sheet Examples

CUSTOMIZED Weekly Schedule Sheet Examples

Notes about Customized Weekly Schedule Sheets:
When ordering customized sheets, first familiarize yourself with the three sections that make up each Weekly Schedule Sheet: Weekly Detail, Daily Checklist, and Weekly Focus. When you order, you will be laying out your choices for each of these three sections (in addition to Days of the Week, and Quotation, which are self-explanatory).
Don't forget to get creative! Look through our examples and ideas here.  As you'll see, there are many ways to customize. Days of the Week don't have to be Monday – Friday, the Weekly Detail section doesn't have to contain "normal" categories, etc. You know your schedule and your life – do what works best for you!
Need to step away from the computer and think about your choices?  Download this handy Planning Worksheet.
RECORD KEEPING
As home educators, we have many things to record and remember, and this section of the Teacher Edition is the perfect place to do just that.  Our forms allow you to log expenditures, track books that you've lent out, and record important phone numbers and websites.  We also provide plenty of notes pages to take notes, write down ideas, or even journal. Find more information about specific forms on our Form Examples page.
Plus, add up to two pockets store all those curriculum receipts, conference flyers, order forms, and miscellaneous paperwork that usually end up cluttering the kitchen counter.  The worksheets in this section include:
Important Dates to Remember
Resources for Reference
Healthcare Information Log
Monthly Bills and Expenses

Homeschool Expenses
Lending Library
Notes
Pockets (optional – add up to 2)
Additional Features:
A sturdy laminated cover with a wet-erase Doodle Page on the back
Coil binding, which ensures the planner opens completely and lays flat.
The choice of adding up to two pockets in the back to keep all your homeschool paperwork organized
Ready to get organized?  Order now!