If you are like I am, when summer rolls around, schedules fly out the window. The summer seems to pass too quickly and I always wonder, come September, what my kids actually accomplished in the past three months.
That realization first hit me when my oldest was around 6 years old. To counteract the feeling, I had the brilliant idea to have him create a summer journal. That first journal and ones from several summers after have become treasured keepsakes. We all enjoy looking back through the events, critiquing the handwriting, and admiring the artwork.
Summer Memories
All through elementary and middle school, my boys knew that each summer both of them were expected to keep a journal.  They started with short sentences and some artwork and every year they add a little more writing.
Yes, they grumbled about it at times, but I would just remind them how much they would appreciate having these memories to look back upon. I will admit that I had to sometimes resort to guilting them a little by emphasizing just how important they were to me. But, I only asked them to journal about the really cool stuff like day camps and swimming excursions, and let them skip days spent at home cleaning out closets. :)
Making My Own
Like I did everything else in those days, I started out making my own, just using construction paper for the covers, lined paper for writing, and a few staples. Then, a few years in, my friend Kim and I started A Plan in Place, and it was only a short jump for us to design a summer journal to offer to our customers.  And, ta da!, the Summer Edition Planner & Journal was born here at A Plan in Place.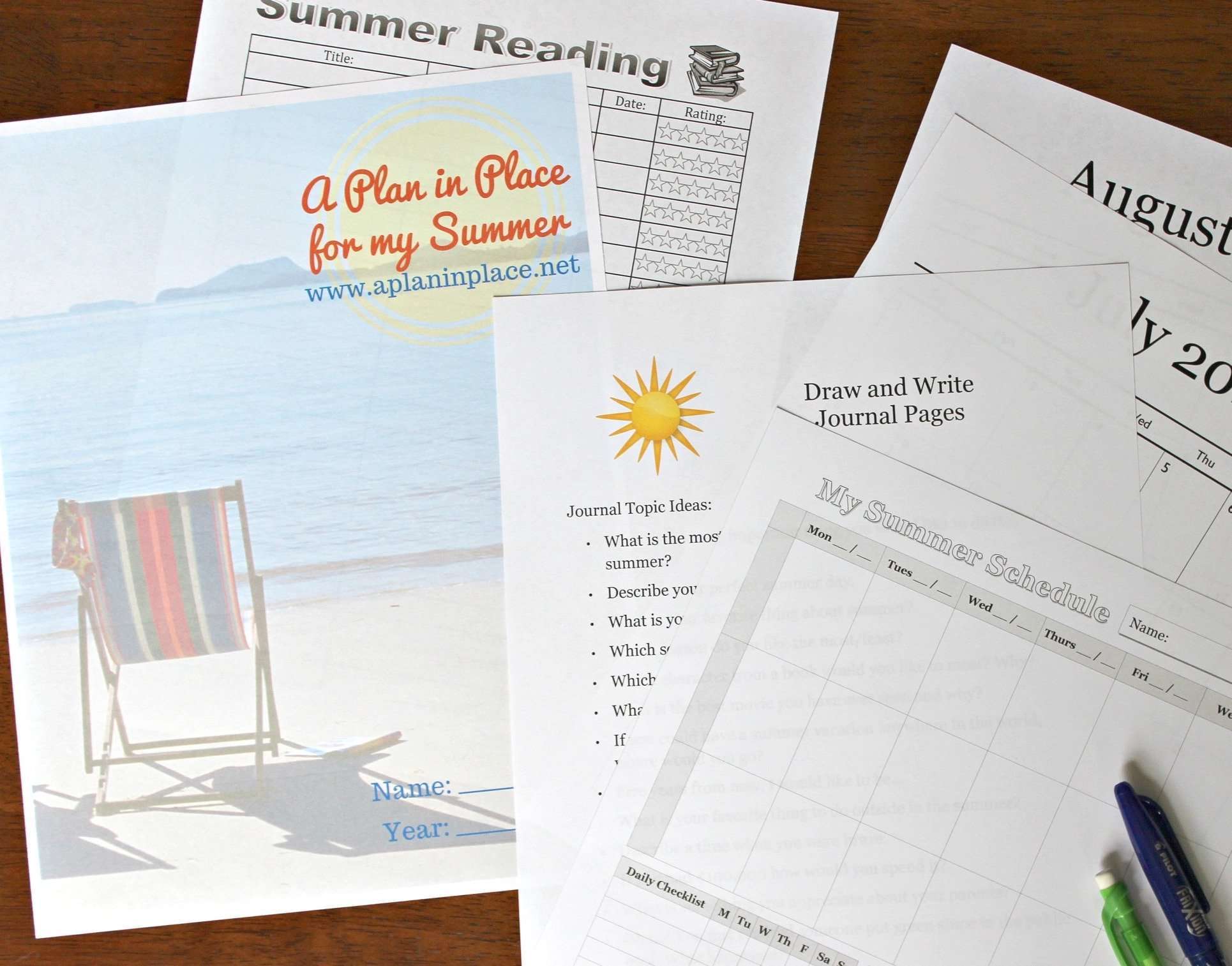 A few things I LOVE about our Summer Edition:
The weekly schedule sheets
They might not get used each and every week, but they are nice to have when things need to get accomplished, and they really come in handy the last few weeks during the transition slowly into the "back to school" schedule.
A general plan for the summer, a reading log, and a list of camps and activities gives an easy way to remember things that could easily be forgotten.
The lined sheets for journaling – with a list of ideas!
We include enough pages for an ambitious author to fill, but not too many that reluctant writers will feel overwhelmed. And our list of fun topics and writing prompts will help any time you get that familiar "I don't have anything to write about!" complaint.
And, best of all, it's printable!No need to wait for it to come in the mail – or pay postage!  Once you order, you will automatically be able to download and print the pdf file and start using it right away. 
I encourage you to start recording these special memories too; you won't regret it!
Happy memory-making,
Suzie