I spend a lot of time in the homeschool community, both in person and online.  One question seems to pop up often:  "How do I master homeschool organization?"  I have seen a lot of systems come and in the early years, I tried a few.  But early on in my homeschool journey, almost 10 years ago, I decided that a homeschool planner was the perfect tool.
I couldn't find the perfect planner so I made my own for a few years.  Eventually, I partnered with my best friend and fellow homeschool mom and we started A Plan in Place.  Our heart is to help homeschool moms all over the world get their homeschool organized.
We truly believe that a homeschool planner can be the ONE tool to help you get and stay organized.  Let me tell you why.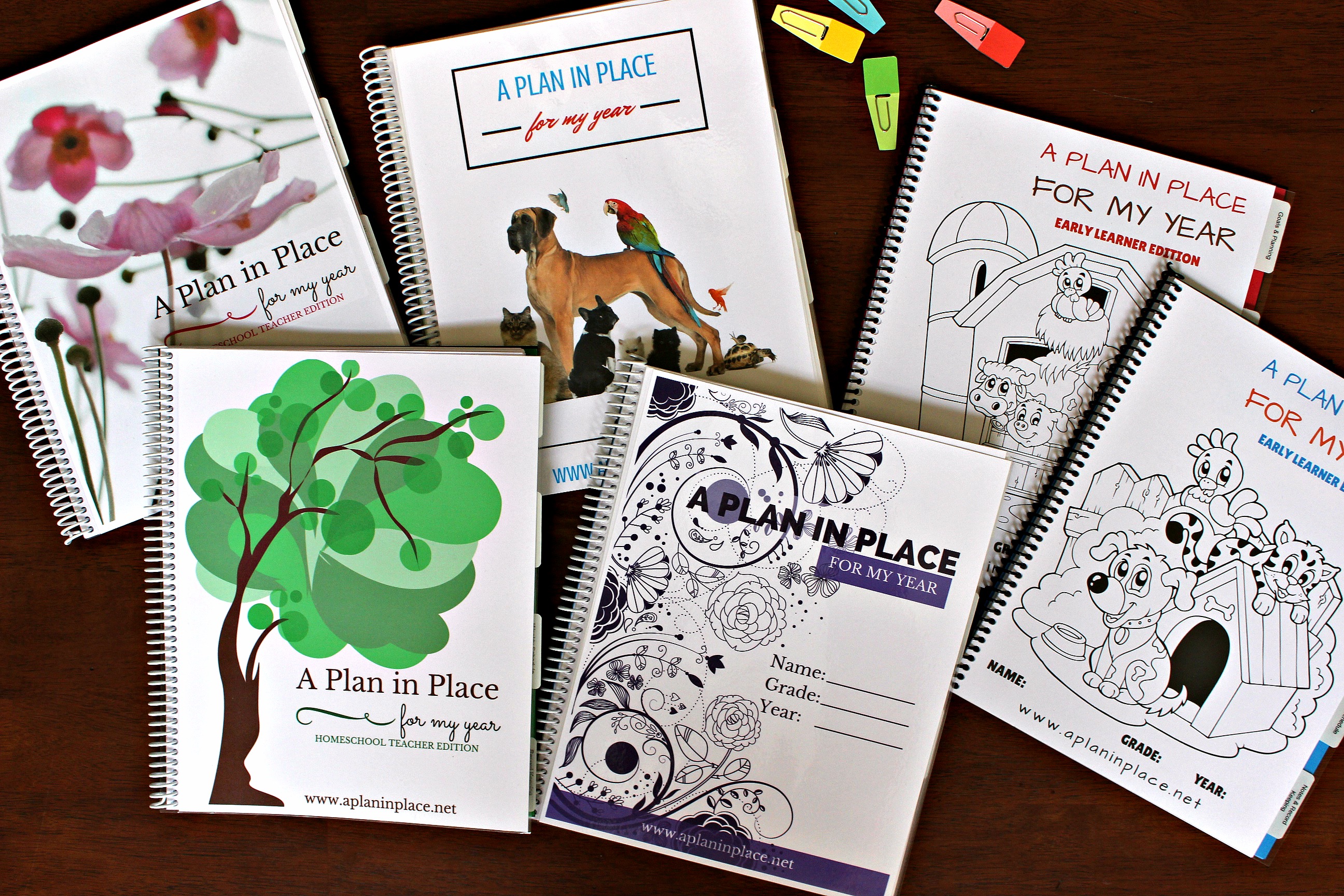 Homeschool Organization Made Easy
My husband says I tend to complicate things. On days when I am honest, I have to admit he is right, most of the time. With so much advice on how to get organized it is hard to believe that just ONE tool can make such an impact.
We think Cindy over at Our Journey Westward said it best when she said this, "This spiral-bound stack of goodness will be a one-stop booklet to keep my son AND me on top of it this coming year."
Our thoughts exactly.  Yes, it really is that easy.
Homeschool Organization Made Smart
We have put a 4 step system into each one of our customized homeschool planners, both for the homeschool mom and student from Pre-K all the way to 12th grade. We know from many years experience that a homeschool planner can help you…
plan your entire homeschool year;
work consistently throughout the year;
record your child's progress; and
keep all you need for a complete year of homeschooling.
We have goals and planning forms to help you develop a plan, optional calendars to stay on track with the big picture, weekly pages to work through the plan you designed, and a record keeping section consisting of forms for data and pockets for work samples to wrap up the year and keep all you need in one place. Now that is Smart!
How a Homeschool Planner Keeps You Organized
I am amazed at the amount of space some organization systems need! Hanging file boxes, crates, drawer systems, and cubbies all need a lot of space. When you multiply that times the number of children you have, it can get very overwhelming and expensive. In a homeschool student planner, you simply record all the curriculum they are using, write down each day what needs to be accomplished in each subject, and store the books and supplies on a shelf.  Voila! Then, you can tear out or compile a few representative samples or special projects of work completed and keep them right in the pockets.  With other forms such as achievement logs, you can record test scores and other accomplishments all in one place.
You can read some more great advantages, including how a homeschool planner compares to the workboxes system.
Get Organized with a Homeschool Planner
Now that you know how you can improve the organization in your homeschool with one tool, see why the custom choices we offer in our shop are the best solution for a homeschool planner on the market.