Are you a Do-It-Yourself kind of homeschool parent?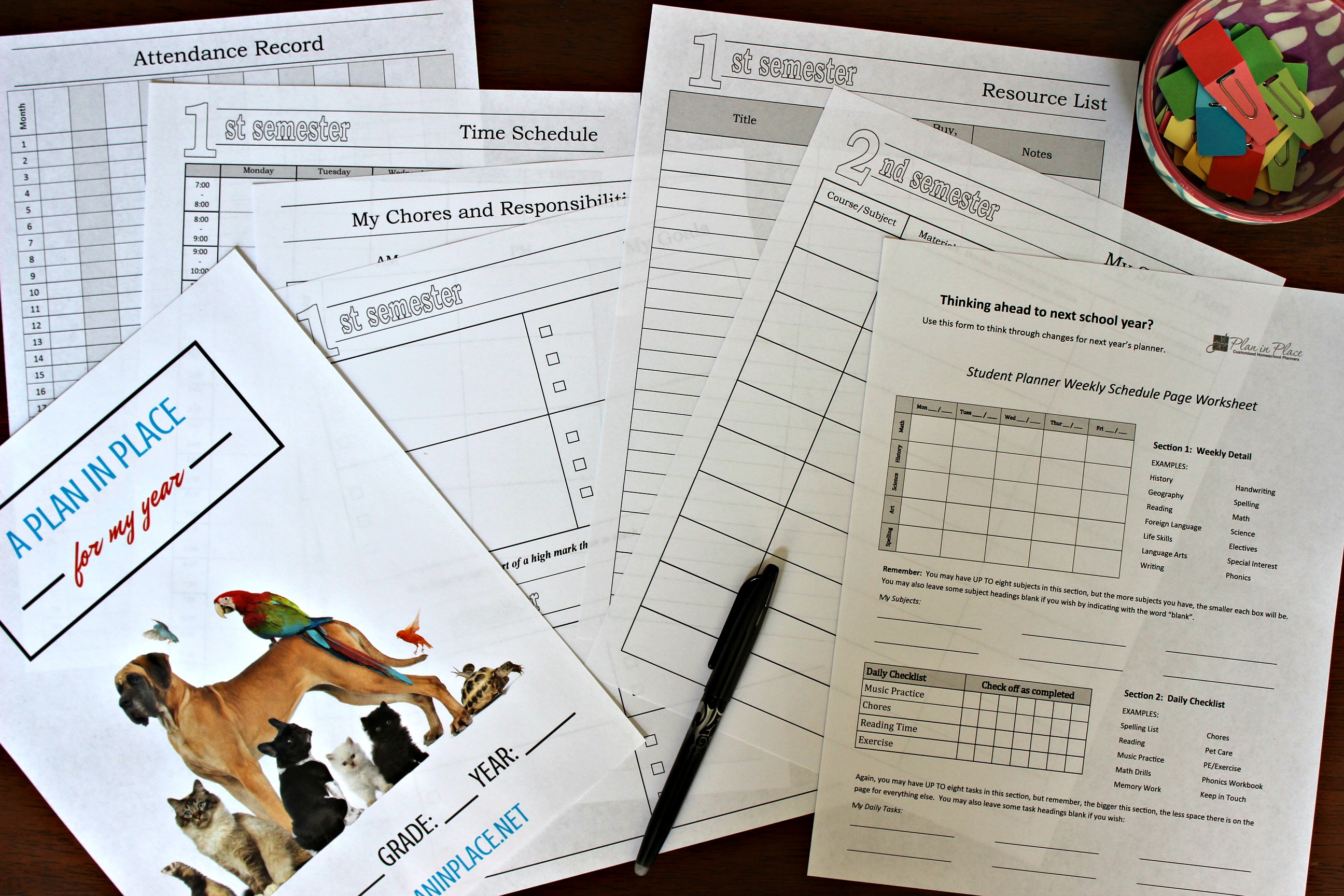 Then you ​need a Printable Homeschool Planner from A Plan in Place! You get all the awesome features of our customized homeschool planners, but you just download and print at home.If you're on the fence about which type of planner is right for you, consider the following. If you find yourself nodding your head "Yes!" to any of them, you'll want a print-your-own homeschool planner.
​
Do I Need a Printable Homeschool Planner?
A 3-ring binder makes more sense for your family than spiral bound

You have a high quality printer and want to save some money by doing your own printing

You're anxious to get started planning and simply can't wait a week for us to prepare and ship a planner to you

You love things printed on colored paper​ or you want to select your own paper

You have additional .pdf forms that you use regularly and want to add them to your planner

You don't live in the United States and don't want to pay for international postage
​Just like our printed planners, you still have the ability to fully customize your printable homeschool planner, including: a full-color cover, stock or customized Weekly Schedule Sheets, calendars, Goals & Planning forms, and Record Keeping forms.
You can choose any of our planners: Early Learner, Student, High School, or Homeschool Teacher.  Not sure which to order? We have a handy chart to help you decide which homeschool planner is the right choice!
You customize; we create a beautiful planner, put it all together, and email it to you. Easy peasy. All you have to decide is when and where you'll print!
Here are some additional details for our printable ​homeschool planners:
Because ​your Printable Planner is customized and created just for you, you won't receive ​it immediately. Within about 48 hours of purchase, you'll receive an email with a link to download your planner(s), plus instructions on how to make sure they print correctly. (If you order a customized schedule sheet with a proof, you'll receive that first, then your full download upon approval.)

Remember, ​each Printable Planner is intended to be used by ONE student or teacher for ONE year. Please order additional Printable Planners if you have more than one student.

Once downloaded, you may print as many copies of your Weekly Schedule Sheet as you would like (up to 52 weeks for a calendar year). Again, the forms are intended to be used for one year only.

The forms are formatted to be printed double-sided, which is why you will see some blank pages.
We're homeschool moms. We KNOW that there is no standard homeschool family. You need choices when it comes to a planner, too. No standard, one-size-fits-all planner will do. Now you're in charge of putting the pieces together to create your own ideal planner.