Want to try out our planners without a commitment?
Here are some free homeschool printables just for you.
Click to download, print them out, try them with your students, and see what a difference having quality forms makes in your homeschool.
If these forms work well for your student, take a look at the entire line of customized planners in our shop – or check out this easy way to decide which planner is right for you!
These Planning and Record Keeping forms are wonderful tools for your homeschool.  But for weekly organization and the ability to stay on track all year, you need a Weekly Schedule Sheet.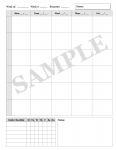 We would love for you to try out ours! Just enter your email address below, and we'll send you (within 24 hours) a free printable of our stock one-page-per-week Weekly Schedule Sheet.
Remember, with the purchase of any of our planners, you can customize your Weekly Schedule Sheet to fit your schedule perfectly!  And beyond the schedule page, you can customize your entire planner.  As we like to say:  Put the pieces together to create your ideal homeschool planner.
More free homeschool printables ~ Certificates!
Just for fun, we've created a some free printables for your students.  Beginning or ending a long (but hopefully rewarding!) year of homeschooling is always a reason to celebrate, and just for you, we have created certificates ready to print and present either on the first or last day of school.  For a fun idea, snap a picture of your student holding one of their certificates and surrounded by their stack of books!  If you prefer, you may purchase printed copies in our Shop.